Design // May 2023
On Reflection
As the first stage of the 101 Collins Street lobby evolution is revealed, it not only reimagines a transitional waiting space, but examines how a lobby can enhance the human experience of our buildings and improve our collective wellbeing.
The lobbies of the 80s were a showcase of corporate power and prestige. As one of the finest examples of early 90s Australian commercial architecture, 101 Collins Street is no exception. With monumental columns, abundant polished stone, huge volumes and transitional thoroughfares, human interaction was limited to a concierge behind a desk. Like many buildings of its time, the architecture focused on making a statement about the businesses inside rather than the individual. 
"We felt there were some original elements that were important", says Jeffery Copolov, Director of Interior Design at Bates Smart. "We wanted to respect the things that were well done then and temper them, building in a new layer that responds to the needs of today and tomorrow." 
So, what are those needs and how can architecture and design cater to them? Long before Covid fast-tracked a new way of working, strategies were in place to future-proof 101 Collins Street to ensure the building continues to adapt. We no longer come into work, go straight up to the office and sit at a desk for eight hours. We need to move around and have different interactions throughout the day to keep us alert. We need times that are quiet, singular, introspective and contemplative, and times that are social and collaborative. These states and settings are non-repetitive and change daily. Led by Copolov and fellow architect, Interior Designer and Associate Director at Bates Smart, Grant Filipoff, the team has reimagined the 101 Collins Street lobby to create a series of inspiring and interactive spaces that cater to this for tenants and visitors alike. 
"One of the first things we discovered early in our research is that the average age of the tenants in the tower is mid-30s, much younger than we expected", explains Grant Filipoff. "The great thing about 101 Collins Street is that joins two worlds – Collins Street and Flinders Lane. We wanted to draw in the more dynamic aspects of Flinders Lane, so we've given the Flinders Lane entrance equal hierarchy, and now we will have two front doors."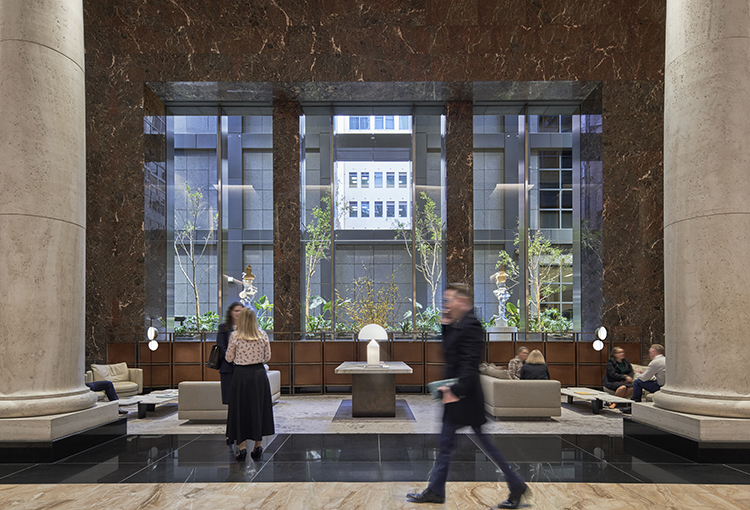 In the past, commercial architecture tended to cater for tenants only, remaining so exclusive that non-occupants didn't feel welcome. In a move away from the corporate towards the individual, the new lobby creates different settings that allow people, who have different needs and aspirations at different times of the day, to work and behave in different ways. 
"In the past, spaces like this made you feel diminutive", says Jeff Copolov. "We've countered that. The individual is now the most important aspect; the human matters, and we've scaled their experience up not down. The actor on the stage is more important than the stage set." 
Bates Smart brought its vast expertise in hospitality and health to give the lobby a rich hospitality and wellness layer, through the biophilic design principles of landscaping and natural light, as well as sensory artwork, which contribute to a renewed sense of wellbeing. The evolved East Lounge and Sanctuary Garden now encourage people to stop, gather, contemplate, and experience the new art commissions, all of which inspires emotional reflection. 
"Previously there was nowhere to sit in the lobby at all, only a slab stone bench, which felt like sitting in a museum", says Jeff. "The new East Lounge is deliberately a cul-de-sac. Rather than create seating in what is effectively a thoroughfare, we chose to remove two columns to create an internal area of respite, close to the windows, natural light and internal reflecting pools." 
The East Lounge also introduces warm materiality that was previously foreign to the space. Carpets, upholstery, leathers, soft furnishings, screens and beautifully crafted furniture all bring a rich hospitality atmosphere and handmade quality, feeling more like an intimate hotel lounge than a corporate workspace. Lamps bring the lighting down to a human scale, while the columns are carefully lit to bring a visual warmth. 
To further calm the space visually, Bates Smart also reduced the number of varying stone finishes in the lobby. Previously six different stones, the architects brought it back to four, replacing the chequerboard Breccia Oniciata and Rosso Verona marble floor with just the Breccia Oniciata to make it a more calming space. 
"It's these subtle changes that make a huge difference to how the space looks and feels", says Jeff. "Whatever we did, we wanted it to be respectful and nuanced. It's not about putting our stamp on it, but making it feel entirely new, yet like it might have always been."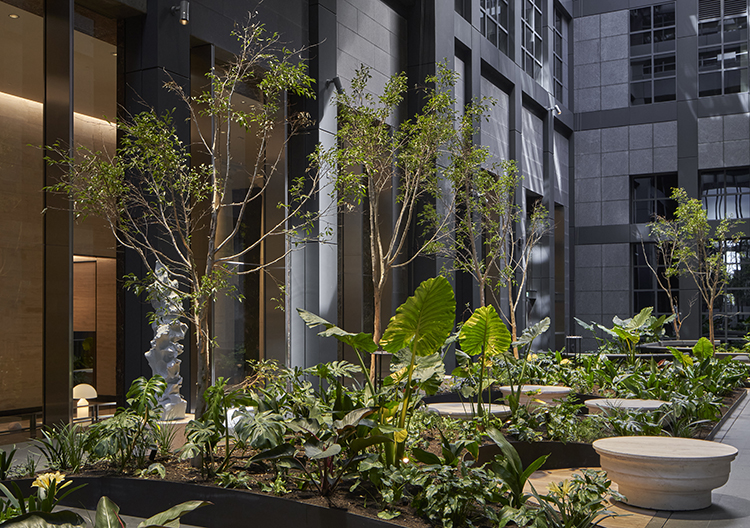 To bring a meaningful presence back to the Sanctuary Garden, Bates Smart firstly made it accessible. Then, working closely with landscape designers Openwork Landscape Architects, significant research went into identifying which plants would thrive in the space. Consequently, and while previously the space could be looked at, but not experienced, today, it is an urban oasis, designed to encourage contemplation and interaction with nature, enriched by a significant investment in carefully curated artworks. 
The capitals and segments of the two columns removed from the East Lounge area have been thoughtfully repurposed for use in the garden, becoming plinths for two of the artworks, as well as stone seats and tables. When the columns were pulled apart, a series of handprints and names belonging to the original stonemasons were discovered in the mortar. Recognising the historical significance and humanity of this extraordinary gesture, Bates Smart has reengraved the names and handprints to bring this story of the past into the Sanctuary Garden. 
"How the columns have been repurposed is a beautiful nod to the past", says Jeff. "You had columns that were static, you just looked at them. Now you interact with them, you sit on them, they carry the artwork, and they carry stories. It's a really nice way of taking something, rethinking it, and giving it a new life." 
"What we're bringing to this building is what we think is the future of mixed-use buildings, which is about creating inspirational spaces that encourage both tenants and visitors to use them and bring colour and movement as they move through", says Grant. 
"It's about uplifting people and making their day extraordinary. This is what good architecture and design does – it touches the soul and takes you to a place beyond the ordinary, and I think the 101 Collins Street lobby does that."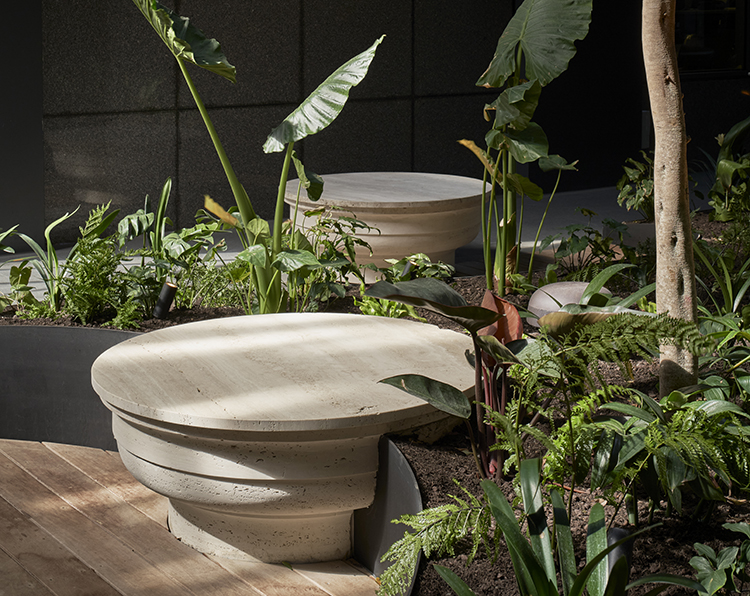 Share this on LinkedIn, Twitter