Walking into the Canaccord Genuity office at 101 Collins Street, you would be forgiven for thinking that you are in a luxury hotel. With soft broadloom carpet underfoot, low lighting, designer furniture and an enormous Tundra stone reception desk, there is not a carpet tile or fluorescent light in sight. 
"It was clear from the beginning that the space needed to feel residential rather than commercial," explains Gabby Hamilton, Senior Interior Designer at interdisciplinary design practice, Hot Black. "Client-facing spaces needed to showcase the personality of the business, while back-of-house spaces needed to be functional and cater to the nature of work they do."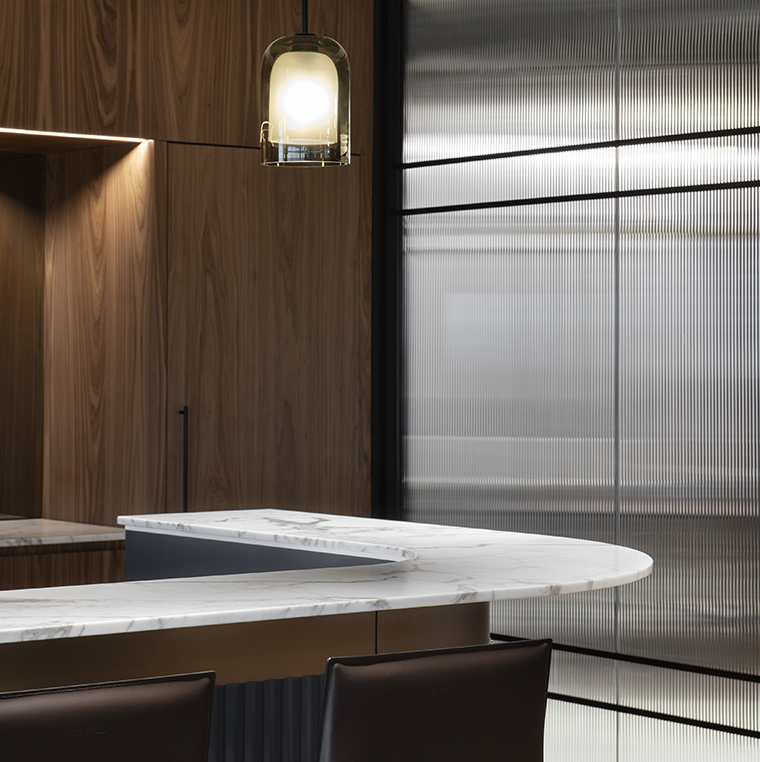 Canaccord Genuity is a Capital Markets and Wealth Management business with offices around the globe, as well as Sydney, Melbourne and Perth. When the business expanded its operations by combining with another firm, the Melbourne team quickly jumped from 50 to 110 employees and needed a new office to accommodate the growing team. 
"Moving to 101 from 333 Collins was our way of creating a fresh environment for our new integrated team", explains Kristina Skender, Chief Operating Officer, Capital Markets at Canaccord Genuity. "We're a very social workplace and a lot of people wanted to come back to the office. We wanted to give them a reason to come back by creating a feeling of home in the office." 
Veering away from typical commercial financial firm fit outs, Hot Black's brief was to create an 'effortlessly elegant' second home for Canaccord Genuity's clients and employees. The natural yet sophisticated materials palette is warm and inviting to suit the Melbourne climate, with lots of stone, marble and wood veneer creating a dark and moody arrival and the feeling of bunkering down in a cosy space. Elements such as polished plaster play with the lighting and create moments of texture, while providing a calm and serene backdrop that allows Canaccord's stunning art collection to pop. Curved timber and reeded glass contrast the grid-like symmetry of the building, creating softness and fluidity in what is essentially a square space.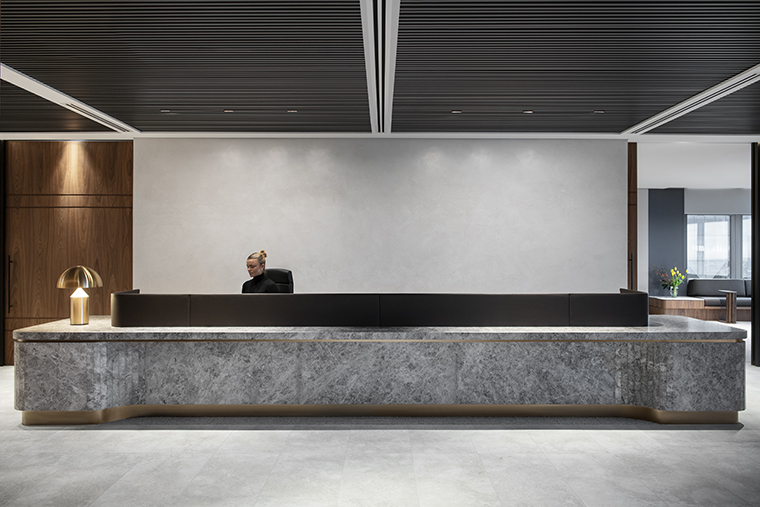 When it came to dividing up the floorplate, key aspects of how Canaccord Genuity operates were considered. "Within the Capital Markets team, there are three departments: Investment Banking, Institutional Sales and Research, and each of these teams has its own nuanced requirements", explains Kristina. "For example, our Investment Banking team has market sensitive information and needs swipe card segregation from the rest of the team. Hot Black were fantastic at taking our intimate knowledge of how we know our team operates, and using their amazing design skills to create spaces that not only cater to that but are aesthetically beautiful too." 
One side of the floorplan is dedicated to the Capital Markets team and the other to the Wealth Management team, which is entirely open plan. The reeded glass gives privacy yet openness, keeping teams visually connected without being physically together. Extensive glazing rather than plaster walls avoids "a series of closed boxes situation", instead creating continuity and connection in the space. So, while glass walls might separate people, they still feel part of the wider team.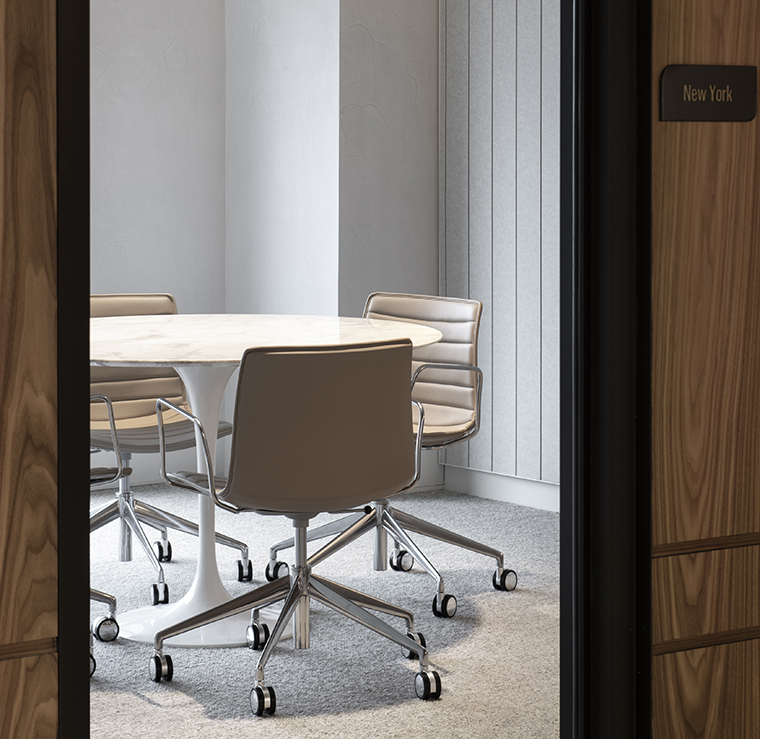 As much as functionality was crucial, employee wellbeing was paramount and Canaccord Genuity placed huge emphasis on the social and breakout spaces. "We looked at the space and gave the prime real estate to our employees and their clients", says Kristina. "We knew that bigger spaces such as boardrooms just weren't getting used so we put the multi-functional Lounge where the boardroom would normally have been positioned, and we have the boardroom flowing into the core." 
Unlike it sounds, the Lounge is not a space exclusively for the C-suite. It's a social space where people can bring clients, have a coffee or lunch. With a café style bar, booth seating and French bistro feel, it is crowned by magnificent views of Melbourne from anywhere you sit. "I often catch people standing just looking out of the windows; even people who have lived in Melbourne their whole lives", says Kristina. "From here, you get to see the city from a whole new vantage point."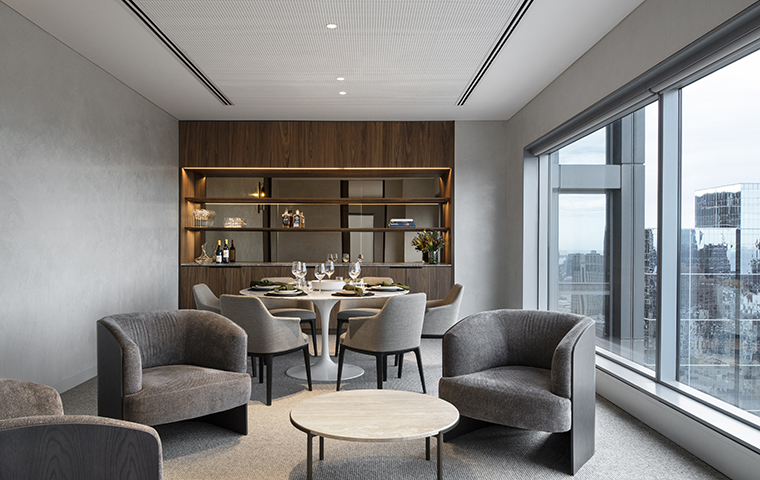 From the meeting rooms to the Lounge, breakout to office spaces, there is a consistency of luxury, democracy and attention to detail. Custom joinery, marble-topped credenzas and designer furniture signal Canaccord Genuity's eye for design. Hot Black were spoiled for choice with Cannacord Genuity's enviable collection of designer furniture, and reused all the old boardroom chairs and had a new top made for the existing Eames boardroom table. "We wanted to pay homage to the beautiful, timeless pieces that Canaccord Genuity has collected over the years and elevate them to align with the new design", says Gabby. 
Working collaboratively, Canaccord Genuity and Hot Black have created a space that does what it set out to do. "People can't believe that this is their office. They're coming back and spending more time here," says Kristina. "We're socialising more and enjoying all the perks that 101 Collins offers such as the complimentary events, health & wellness and MIFF tickets, it's really brought us together as a team."